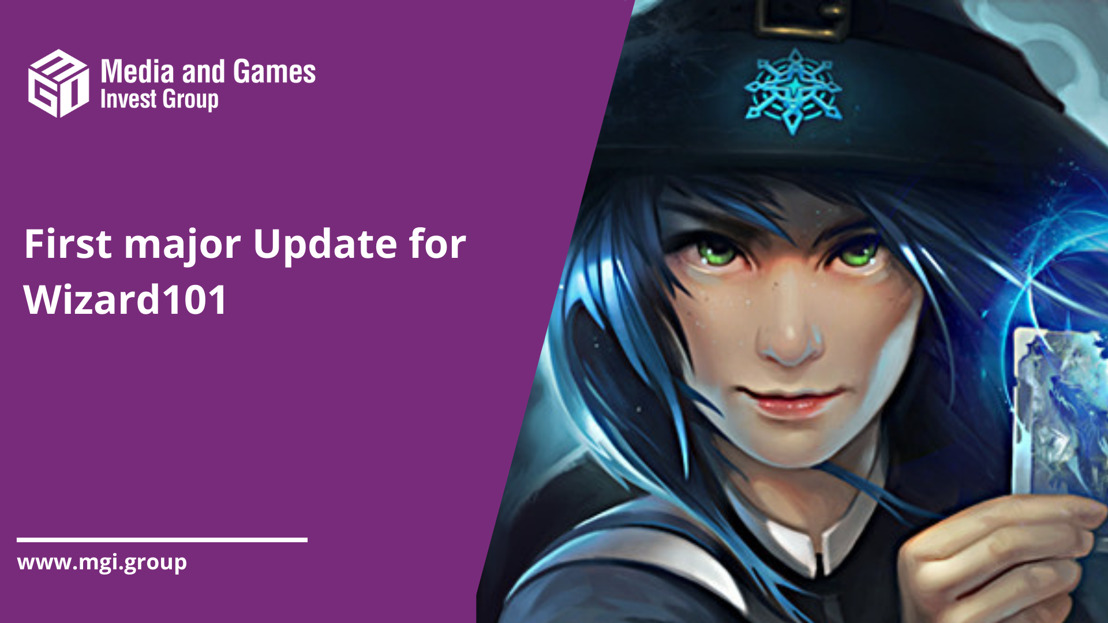 After acquisition in Q1, MGI's Games segment announces first major update for KingsIsle's top MMO Wizard101
Saturday, May 1, 2021 —
This is a major update for both new and experienced players looking to continue their adventures together in Wizard101 and challenge new bosses.
KingsIsle Entertainment, a proven MMO hitmaker and acquired by Media and Games Invest's ("MGI") Games Segment gamigo in Q1 2021, invites gamers to experience their latest update to Wizard101. Players will find new bosses to defeat, new team-based events with special rewards to acquire for all participants, and new 'Meet Your Fellow Wizards' socialization features that make it easier than ever to find other players.
In addition to expanding combat for adventurous PvE (Player vs. Engine) players, this update also further supports PvP (Player vs. Player) balance and matchmaking – resulting in better quality matches that players get into faster and thus more easily obtain the lucrative event rewards and player status. By constantly working with the community directly, KingsIsle can fine tune combat balance and ensure an equally satisfying experience for both PvE and PvP participants.
"Following the acquisition earlier in Q1, the integration of KingsIsle has progressed well and is already performing well above plan. I am particularly pleased that we now have already been able to launch an extensive update for Wizard101, which provides a lot of exciting new content and possibilities for the players. A great achievement of the whole team, that is already working on further exciting projects for Wizard101 and Pirate101" says Jens Knauber COO of MGI.
A complete overview of the Spring Update is posted on Wizard101.com.
About KingsIsle Entertainment
KingsIsle Entertainment, established in 2005 and acquired by MGI's Games segment gamigo in Q1 2021, is a proven MMO hit-maker with 50+ million registered users across the two MMOs Wizard101 and Pirate101 with vibrant and strong communities. Since its foundation, Kingsisle has devoted itself to family-friendly gameplay, and has built an audience that reaches from pre-tweens to their grandparents. The award-winning game Wizard101 is currently in its 13th year and Pirate101 is in its ninth.
FOR MORE INFORMATION, PLEASE CONTACT:
Sören Barz
Head of Investor Relations
+49 170 376 9571
[email protected], [email protected]
www.mgi.group
Jenny Rosberg, ROPA, IR contact Stockholm
Phone: +46707472741
Mail: [email protected]
Axel Mühlhaus / Dr. Sönke Knop, edicto GmbH, IR contact Frankfurt
Phone: +49 69 9055 05 51
Mail: [email protected]
ABOUT MGI:
Media and Games Invest ("MGI") is a digital integrated games and media company with main operational presence in Europe and North America. The company combines organic growth with value-generating synergetic acquisitions, demonstrating continuous strong, profitable growth with a revenue CAGR of 45% over the last 6 years. Next to strong organic growth, the MGI Group has successfully acquired more than 30 companies and assets in the past 6 years. The acquired assets and companies are integrated and amongst others cloud technology is actively used to achieve efficiency gains and competitive advantages. The Company's shares are listed on Nasdaq First North Premier Growth Market in Stockholm and in the Scale segment of the Frankfurt Stock Exchange. The Company has a secured bond that is listed on Nasdaq Stockholm and on the Frankfurt Stock Exchange Open Market as well as an unsecured bond listed on the Frankfurt Stock Exchange Open Market
The Company's certified advisor on Nasdaq First North Premier Growth Market is FNCA Sweden AB; [email protected], +46-8-528 00 399.