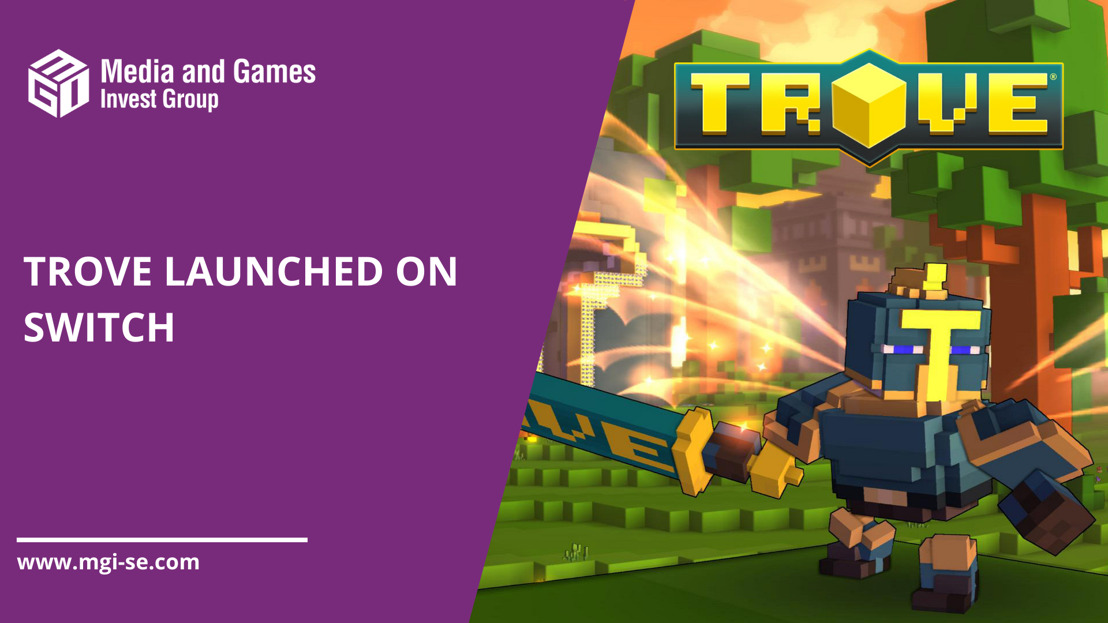 Media and Games Invest games segment gamigo announced the launch of Trove on Nintendo Switch
Thursday, June 24, 2021 —
Media and Games Invest SE ("MGI" or the "Company", ISIN: MT0000580101; Ticker M8G; Nasdaq First North Premier Growth Market and Scale Segment Frankfurt Stock Exchange) games segment gamigo has announced that the free MMO Trove is now available on Nintendo's portable console.
With over 28 million players on PC, PlayStation and Xbox, gamigo group is excited to announce the release of their cubic online adventure Trove on Nintendo Switch, which is now available in the Nintendo eShop.
Trove is unlike any other game on the market — it constantly evolves and is continuously shaped by its community. Players can build their own weapons, items, dungeons and much, much more. They can enjoy these new creations in their own game world, while submitting them to the Trove team may see them added to the full game — with over 5,000 player entries added, to date, so all Trove players can enjoy them.
Trove is a game that easily fits any playstyle. Whether the player just want to go in and explore the vast varieties of surface levels of the countless game worlds, or dive deep into dark dungeons, fight foes, craft, or just have a good time with its friends, Trove's got something for everyone. The game regularly receives a plethora of substantial updates and new content, including, most recently, the new Bard class, as well as the Delves expansion that brings a host of new features to the hit title.
Trove prides itself in its dedicated community and player-driven content. The MMO offers a dynamic game world that supports endless creativity, and the Nintendo Switch is the ideal platform for taking Trove, as well as its fans, to a whole new level of creativity and collaboration.
"Trove is one of our top MMO's and we are very happy to launch it now also on Nintendo Switch. Nintendo Switch is the ideal platform for extending the game's user base as it's a console that is highly popular with Trove's main target group.", says Jens Knauber, CEO of gamigo group.
*Bard class available now on PC, console versions coming soon
For further information, please contact:
Remco Westermann
Chairman of the Board and CEO
[email protected]
Sören Barz
Head of Investor Relations
+49 170 376 9571
[email protected], [email protected]
www.mgi-se.com
Jenny Rosberg, ROPA, IR contact Stockholm
+46707472741
[email protected]
Axel Mühlhaus / Dr. Sönke Knop, edicto GmbH, IR contact Frankfurt
+49 69 9055 05 51
[email protected]
About Media and Games Invest SE
Media and Games Invest SE is a digital integrated games and media company with main operational presence in EMEA and North America. The company combines organic growth with value-generating synergetic acquisitions, demonstrating continuous strong, profitable growth with a revenue CAGR of 45% over the last 6 years. Next to strong organic growth, the MGI Group has successfully acquired more than 30 companies and assets in the past 6 years. The acquired assets and companies are integrated and amongst others cloud technology is actively used to achieve efficiency gains and competitive advantages. The Company's shares are listed on Nasdaq First North Premier Growth Market in Stockholm and in the Scale segment of the Frankfurt Stock Exchange. The Company has a secured bond that is listed on Nasdaq Stockholm and on the Frankfurt Stock Exchange Open Market as well as an unsecured bond listed on the Frankfurt Stock Exchange Open Market.
The Company's certified advisor on Nasdaq First North Premier Growth Market is FNCA Sweden AB; [email protected], +46-8-528 00 399.