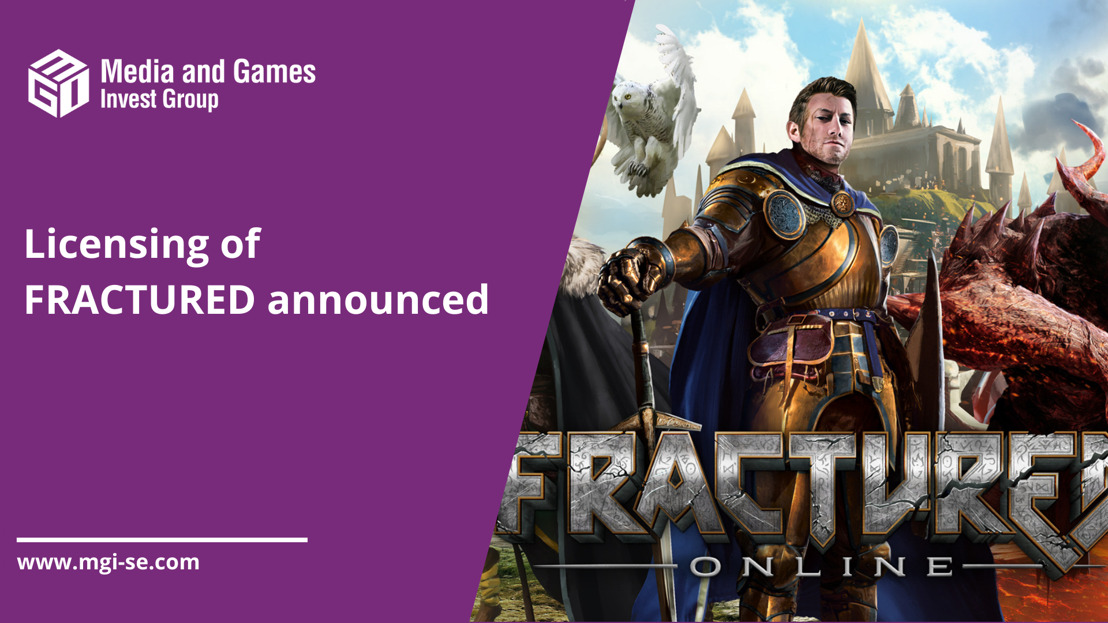 Media and Games Invest SE: announcing game portfolio addition 'Fractured Online', a new promising open-world Sandbox Fantasy MMORPG
Monday, December 20, 2021 — Media and Games Invest SE ("MGI" or the "Company", ISIN: MT0000580101; ticker M8G; Nasdaq First North Premier Growth Market and Scale Segment Frankfurt Stock Exchange): MGI's games segment gamigo group has announced that the MMO game 'Fractured Online' has been added to its portfolio. Fractured Online is a dynamic open-world fantasy MMORPG that fits very well into gamigo's core MMO games portfolio. Gamigo has signed a publishing agreement with the developer Dynamight Studios based in Milan, Italy and secured the worldwide IP rights of Fractured Online for PC and console.
Fractured Online is gamigo's first truly dynamic, isometric open-world MMORPG. The sandbox game focuses heavily on giving players the freedom to be who they want – through its unique character progression system – and shape the world the way they want. This can be done figuratively via the game's player-driven economy or literally by building cities across three worlds within multiple continents. In a world where demons naturally prey on all beings, Fractured Online is a game that can either bring players together, or tear them apart.
"We wanted to offer something that was more powerful and flexible than the conventional RPG level and skills progression system," says Jacopo Gallelli, Co-Founder and CEO at Dynamight Studios. "In Fractured Online, we're putting credence to the idiom 'knowledge is power' by introducing the Knowledge System. Our system rewards players that are courageous and clever, not for the hours they've spent hunting rats in a basement for some random farmers."
MGI already announced the licensing deal behind Fractured Online at its Capital Markets Day in August 2021 without revealing the name of the game and the name of the studio behind the game. This approach has been chosen to be able to run a well-orchestrated marketing campaign starting with a teaser campaign, in which details about the game were announced bit by bit over the past weeks, until the official announcement which included revealing the name of the game, last week. Based on this approach gamigo has been able to attract a substantial interest of the community which is important for a successful launch of the game.
The launch of Fractured is planned for H2 2022. Gamigo has formed a substantial dedicated team of experts to prepare the launch of the game. At and after launch, it is also planned to leverage gamigo's extensive experience in community management and the operation of MMO games as well as Verve Groups strong expertise in user acquisition.
Jens Knauber, CEO gamigo and COO MGI: "We have been following Dynamight Studios and their great work on Fractured for quite some time and are looking forward to the upcoming cooperation. We are delighted and are having high expectations with regards to Fractured; the game is unique and very special and a great addition to our portfolio. As planned, we are, next to increasing the number of updates in our current portfolio, also steadily increasing the number of games launches. In total, gamigo has licensed 4 new game titles in 2021. In 2022, we expect to further increase the number of new licenses and launches."
Responsible parties
The information in this release has been made public through the agency of the responsible persons set out below for publication at the time stated by MGI's news distributor EQS Newswire at the publication of this release. The responsible persons below may be contacted for further information.
For further information, please contact:
Sören Barz
Head of Investor Relations
+49 170 376 9571
[email protected], [email protected]
www.mgi-se.com
Jenny Rosberg, ROPA, IR contact Stockholm
+46707472741
[email protected]
Axel Mühlhaus / Dr. Sönke Knop, edicto GmbH, IR contact Frankfurt
+49 69 9055 05 51
[email protected]
About Media and Games Invest SE
Media and Games Invest SE is an integrated digital games and media company with main operational presence in Europe and North America. The company combines organic growth with value-generating synergetic acquisitions, demonstrating continuous strong, profitable growth with a revenue CAGR of 78% (2018 – LTM Q3'21). Next to its strong organic growth, the MGI Group has successfully acquired more than 35 companies and assets in the past 6 years. The acquired assets and companies are integrated and amongst others cloud technology is actively used to achieve efficiency gains and competitive advantages. The Company's shares are listed on Nasdaq First North Premier Growth Market in Stockholm and in the Scale segment of the Frankfurt Stock Exchange. The Company has a secured bond that is listed on Nasdaq Stockholm and on the Frankfurt Stock Exchange Open Market.
The Company's certified advisor on Nasdaq First North Premier Growth Market is FNCA Sweden AB; [email protected], +46-8-528 00 399.