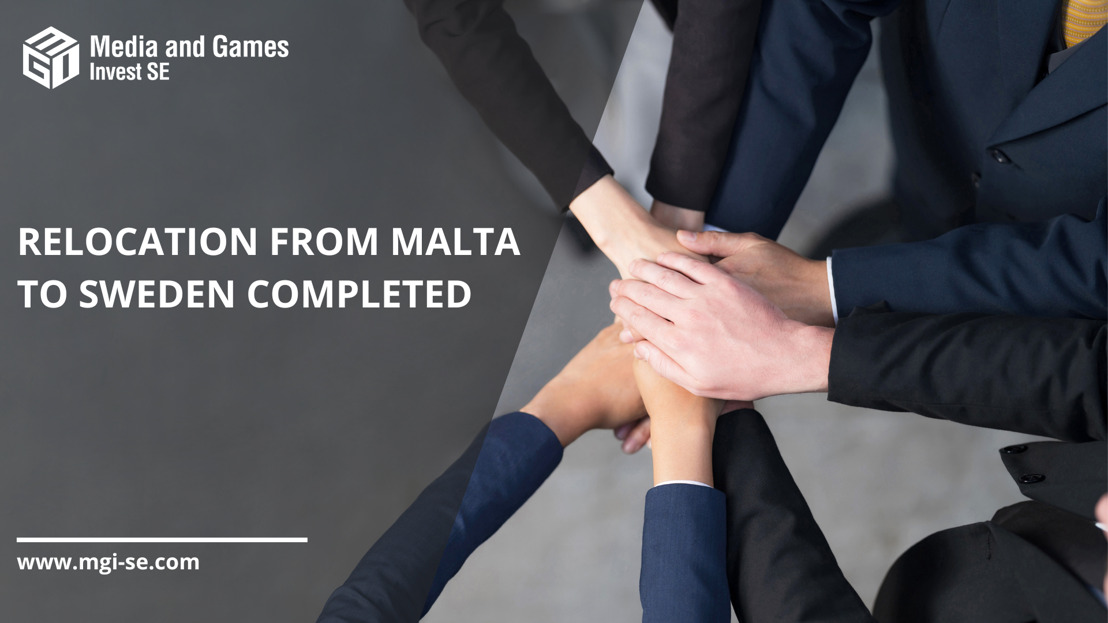 MGI – Media and Games Invest SE: The company's registered office and headquarters have successfully been relocated from Malta to Sweden
January 02, 2023 – MGI – Media and Games Invest SE ("MGI" or the "Company", ISIN: SE0018538068; Ticker M8G; Nasdaq First North Premier Growth Market and Scale Segment Frankfurt Stock Exchange, OTCQX: MDGIF): As communicated by way of press release on 1 November 2022, the extraordinary general meeting of the Company resolved to relocate the Company's registered office from Malta to Sweden. This relocation has now successfully been completed, thus finalizing the transformation process of MGI, which started in 2020.
The Company now announces that its registered office and headquarters have been successfully relocated from Malta to Stockholm, Sweden as of today.
The new address is: MGI - Media and Games Invest SE, Stureplan 6, 114 35 Stockholm. ​

The new registration number of MGI is: 517100-0143.

The new Swedish ISIN for the MGI shares is: SE0018538068.
Remco Westermann, CEO of MGI
"I am very happy that we have successfully relocated to Sweden and are now a full Swedish company as of today. Our link to Sweden started back in 2018, when we placed our first bond in Sweden, at that time still with revenues of EUR 45m and without offices and employees in Sweden. What followed was the dual listing of our shares on Nasdaq First North Premier in Stockholm at the end of 2020, as well as further successful fundraising activities and corporate actions. Today we have revenues of over EUR 300m (LTM Q3'22) and have several offices, many employees and even more supportive investors in Sweden and the Nordics. I am convinced that without our strategic focus on Sweden and the Nordics, our operational success would not have been possible in the way it has been in the past years. Also, Sweden's very high reputation and good governance standards played an important role in MGI's decision to select Sweden as it's domicile. We expect the relocation to be a further accelerator in this respect, opening the company to further investor groups and lowering the risk premium due to further improved governance. Many thanks to all partners, investors and shareholders who have accompanied and supported us for enabling this relocation." ​ ​ ​ ​ ​
Responsible parties
The information in this release has been made public through the agency of the responsible persons set out below for publication at the time stated by MGI's news distributor EQS Newswire at the publication of this release. The responsible persons below may be contacted for further information.
For further information, please contact:
Sören Barz
​Head of Investor Relations
​+49 170 376 9571
​[email protected], [email protected]
​www.mgi-se.com
Jenny Rosberg, ROPA, IR contact Stockholm
​+46707472741
​[email protected]
Axel Mühlhaus / Dr. Sönke Knop, edicto GmbH, IR contact Frankfurt
​+49 69 9055 05 51
​[email protected]
About MGI - Media and Games Invest SE
MGI – Media and Games Invest SE ("MGI") is an advertising software platform with strong first party games content. MGI's main operational presence is in North America and Europe. The company combines organic growth with value-generating synergetic acquisitions, which has demonstrated continuous strong profitable growth with a revenue CAGR of 77% (2018 –2021). Next to strong organic growth, the MGI Group has successfully acquired more than 35 companies and assets in the past 6 years. The acquired assets and companies have been integrated and amongst others cloud technology is actively used to achieve efficiency gains and competitive advantages. MGI is registered as Societas Europaea in Sweden (registration number 517100-0143) and its shares are listed on Nasdaq First North Premier Growth Market in Stockholm and in the Scale segment of the Frankfurt Stock Exchange. The Company has two secured bonds that are listed on Nasdaq Stockholm and on the Frankfurt Stock Exchange Open Market.
The Company's certified advisor on Nasdaq First North Premier Growth Market is FNCA Sweden AB; [email protected].