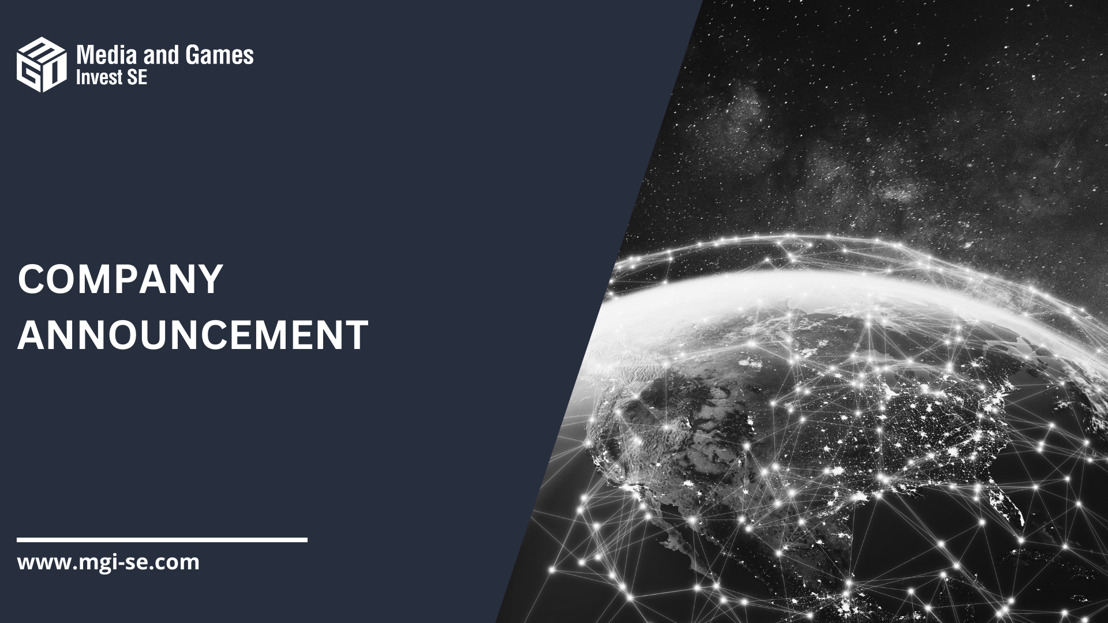 MGI completes settlement of the 2027 Bonds and has reduced its leverage by repurchasing approx. EUR 55m of existing MGI Bonds - Management subscribed for EUR 1.5m in 2027 Bonds
24 March 2023 – MGI - Media and Games Invest SE ("MGI" or the "Company", ISIN: SE0018538068; Ticker M8G; Nasdaq First North Premier Growth Market and Scale Segment Frankfurt Stock Exchange, OTCQX: MDGIF) has today settled the new senior secured floating rate callable bonds (ISIN SE0019892241) in the amount of EUR 225,000,000 (the "Bonds" or the "Bond Issue"). As part of the transaction, MGI's executive management rolled over EUR 1,000,000 of Bonds and subscribed for EUR 500,000 in new Bonds.
In addition to repurchasing EUR 176,200,000 Bonds as part of the 2027 Bond issue as announced on the 9 March 2023, the Company has repurchased Bonds in an amount of approx. EUR 55,000,000 to further reduce leverage. The total nominal amount of the outstanding MGI Bonds now amounts to approx. EUR 400,000,000. The Company plans to further decrease leverage by way of additional repurchases of MGI Bonds at or around prevailing market prices.
With the 2027 Bond Issue and repurchase of existing bonds, the Company has successfully extended its debt maturity profile and reduced its leverage.
Responsible parties
The information in this release has been made public through the agency of the responsible persons at MGI set out below for publication at the time stated by MGI's news distributor EQS Newswire at the publication of this release. The responsible persons below may be contacted for further information.
For further information, please contact:
Remco Westermann
​Chairman of the Board and CEO
​+49 40 411 885206
Sören Barz
​Head of Investor Relations
​+49 170 376 9571
​[email protected], [email protected]
​www.mgi.group
Jenny Rosberg, ROPA, IR contact Stockholm
​+46707472741
​[email protected]
Axel Mühlhaus / Dr. Sönke Knop, edicto GmbH, IR contact Frankfurt
​+49 69 9055 05 51
​[email protected]
About MGI - Media and Games Invest SE
MGI - Media and Games Invest SE (MGI) operates a fast-growing, profitable ad-software platform that matches global advertiser demand with publisher ad-supply while improving results through first party data from own games. MGI's main operational presence is in North America and Europe. Through investments in organic growth and innovation, as well as targeted M&A, MGI has built a one-stop shop for programmatic advertising, enabling companies to buy and sell ad space across all digital devices (mobile apps, web, connected TV and digital out of home), with the mission to make advertising better. MGI is registered as Societas Europaea in Sweden (registration number 517100-0143) and its shares are listed on Nasdaq First North Premier Growth Market in Stockholm and in the Scale segment of the Frankfurt Stock Exchange. The Company has two secured bonds that are listed on Nasdaq Stockholm and on the Frankfurt Stock Exchange Open Market. The Company's certified advisor on Nasdaq First North Premier Growth Market is FNCA Sweden AB; [email protected].